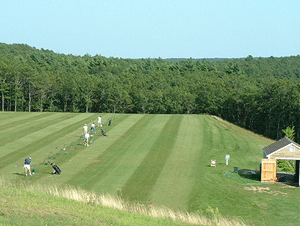 Our practice range offers the following amenities:
Over an acre of lush grass teeing area
Over 300 yards deep and 125 yards wide
Five target greens to develop precise iron shots
Two distinct putting & chipping greens
A clock so you are not LATE for your tee-time!
Individual bag stands & Club washers
Always freshly washed Titleist/Pinnacle golf balls
PGA Professionals available for instruction
A QUIET AND PEACEFUL PLACE TO PRACTICE!!
Sandwich Hollows' secluded practice range featuring a manicured grass teeing area is located adjacent to the golf shop and 9th hole. Distractions or noise is not a problem when working on your game at Sandwich Hollows. Five target greens with accurate distance markers to each green placed in four convenient locations on the grass teeing area assist golfers in their quest to improve. Whether you are a novice or an experienced player, our practice range is a great place to develop or refine your swing.
Driving Range is open April to October.